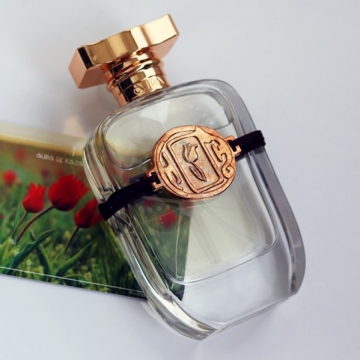 Aura of Kazakhstan
Aura of Kazakhstan is a young niche perfume project, the first of this level in this country. Creative director Yulia Lukyanenko tried to show us the aromas of the Kazakh land with the help of French, Italian and British perfumers. The themes of the compositions were local specialties: steppe and mountains, apples and tulips, oil and spices. Nine fragrances are included in three collections — historical, floral and geographical.
There are two compositions in the flower collection. "Land of Tulips" is a future bestseller. It starts from the first second with a moist and fresh smell of pink tulips. Their bitterness sounds thinly for a while solo in the cool air, but then replaced by the powdery sweet and lazily relaxed fragrance of mimosa. The firmness and assertiveness for such delicate colors is phenomenal. I think everyone who was looking for tulips will be satisfied.
"Land of Tulips", Aura of Kazakhstan, 2020
Sebastien Martin
Freesia, bergamot, cyclamen, tulip, green notes, white musk, woody notes.
"Silver Edelweiss", despite its floral name, is not about flowers at all. Here in the first place is a fresh and spicy coniferous spirit, like the resinous flexible branches of a young pine you break right with your hands and throw it into the fire. The smoke gets in the eyes, fills the mouth with bitterness, and strangely distorts the taste of water and food - green apple with honey.
"Silver Edelweiss", Aura of Kazakhstan, 2020
Vanessa Prudent
Pine, incense, green notes, cloves, vanilla, musk.
There are two fragrances in the historical Aura of Kazakhstan collection. "The Legend of Tomiris" is dedicated to the queen, commander and wise ruler. It was made by Angela Champagna, and the author's handwriting is immediately recognizable. Angela is a master herbalist and a connoisseur of spices, each of her perfumes is a special potion. For "The Legend of Tomiris" Angela has prepared a bunch of honey-scented herbs and scalding cold spices — cloves, star anise and nutmeg. She threw tarry wood chips and fruit tree branches on the hearth to make the smoke particularly spicy and sweet. "The Legend of Tomiris" turned out to be colorful and warm, like a national Kazakh outfit. It stays on the skin for a long time and leaves a bright and spicy trail.
"The Legend of Tomiris", Aura of Kazakhstan, 2020
Angela Ciampagna
Neroli, tangerine, grass, white flowers, rose, violet, gurjun balsam, cloves, white musk, nutmeg, calamus, amyris, patchouli, ebony, sandalwood, vetiver, guaiac, vanilla, papyrus, copay balsam.
"Saga of the Silk Road" — a story about the Silk Road. The northern branch of the legendary caravan route from China to Europe also passed through the Kazakh land. Merchants carried silk, porcelain, tea, and spices on camels. They spent the nights in the steppe, burned dung bonfires and told about their adventures. "Saga of the Silk Road" smells like this: a little fire and camel, dry grass, black pepper and silvery cold incense. 
"Saga of the Silk Road", Aura of Kazakhstan, 2020
Sarah McCartney
Frankincense, myrrh, black pepper, wormwood, spices, red wine, rosewood, ambergris, sandalwood, resins.
The geographical collection of Aura of Kazakhstan is the most extensive and diverse: two capitals — old and new, mountains, steppe and the heritage of the republic.
"Heart of Alma-Ata" literally translates the name of the former capital of Kazakhstan. The warm gourmet aroma opens with the autumn spirit of fresh apples and jasmine tea with honey, and then every minute is filled with the sweet and spicy smell of a pie with apples, strawberries, whipped cream and cinnamon.
"Heart of Alma-Ata", Aura of Kazakhstan, 2020
Sarah McCartney
Apple, melon, apricot, beeswax, honey, red berries, chocolate, black tea, vanilla, musk.
"Pulse of Astana" is another variant of the popular combination of rose and patchouli. The rose in Pulse of Astana is haughty and made of platinum. It is accompanied by musk, solitude, cranberry vodka with sharp crushed ice, nutmeg, sage and frost-covered greens.
"Pulse of Astana", Aura of Kazakhstan, 2020
Sarah McCartney
Black currant, aldehydes, rain notes, grass, rose, metal notes, pink pepper, white musk, cedar, woody notes.
I would prefer "Wind of the Great Steppe" in the form of a candle or a fragrance for the house, because there is absolutely nothing that happens with time. In "Wind of the Great Steppe", the smooth, rough smell of lemon wormwood, dry earth, and oregano just stretches and stretches. Indeed, the smell of the steppe, a vast empty and beautiful space without a person.
"Wind of the Great Steppe", Aura of Kazakhstan, 2020
Sarah McCartney
Davana, wormwood, saffron, cumin, mint, dry herbs, violet, wildflowers, leather, cedar, vetiver, patchouli.
"Music of Mountains" turned out to be unexpectedly gourmet and New Year's Eve-the Christmas tree lights up. The music of the mountains is redolent of a Christmas tree fresh from the frost and sticky sweet pine sap, sweet smoke of sandalwood sticks and a Christmas cake in which cloves, cinnamon, marzipan, candied fruits and raisins soaked in brandy are more than flour.
"Musiс of Mountains", Aura of Kazakhstan, 2020
Sebastien Martin
Cinnamon, nutmeg, pine, lavender, citus, cedar, vetiver, sandalwood, patchouli.
The composition of "Black Gold" seemed unfinished. The smell of gray-brown rawhide, vetiver and dry red earth is pleasant and complex, but it does not fly at all, it does not last long and is close to the skin. I hope that only in our climate, and in other cities and countries, everything is fine with it.
"Black Gold", Aura of Kazakhstan, 2020
Lucas Sieuzac
Cumin, galbanum, vetiver, rum accord, leather, virgin cedar, styrax
The Aura of Kazakhstan team has released their fragrances in gorgeous sparkling bottles of heavy glass. There are also convenient travels and samples. Website aurakaz.com promises to deliver perfume and samples anywhere in the world.